Table Massage Therapy in Evanston, Il
Do you need a stress reduction massage?  Come to Body Works by Carla to experience a massage that will leave you feeling relaxed and better physically and emotionally.  We are experienced in many techniques and provide a variety of options so we can give you the massage that is best for your body.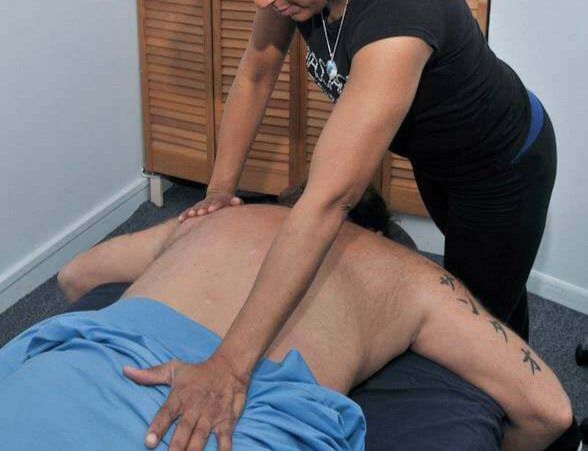 Hot stone massage therapy melts away tension, eases muscle stiffness and increases circulation and metabolism.  Each 1 ½ hour hot stone massage therapy session promotes deeper muscle relaxation through the placement of smooth, water-heated stones at key points on the body. 
This technique is intended to promote relaxation and aid in blood circulation.  The goal of Swedish massage is to relax the entire body.  You have the option of incorporating essential oils into your massage if desired.
Tuning Fork Message Session
This massage session uses tuning forks or vibrational bowls to sooth the "knots" and release trapped energy.  By placing tuning forks and bowls on and around your body, we unite the frequencies in your electromagnetic field.  During each session, you will lie on a table in a peaceful, quiet environment.  We begin with an opening sequence in which weighted vibrating tuning forks are placed at certain points along your body, including a grounding position just below your feet.
An ionic detox foot bath is a natural method of assisting the body in eliminating harmful toxins, heavy metals, and other harmful foreign matter.  It eliminates toxins that are stored in fat, kidneys, liver, bowels, and skin.  The foot bath also triggers the body's lymphatic system, which helps with continuing detoxification for up to 24-48 hours after a session.  During a session the client sits in a comfortable chair.  Most individuals find the experience so relaxing that it is not unusual for them to fall asleep.  
This session will have you feeling relaxed as your feet are massaged, while at the same time promoting healing in your body.  Your entire body is connected and Carla uses reflexology to pinpoint areas in the feet that can bring healing to your entire body.
The Raindrop technique is a method using a combination of reflexology, aromatherapy, massage techniques, and essential oils applied on your spine and on your feet.  High quality essential oils are placed on the reflex points on the feet where the spine is represented.  The Raindrop Technique is designed to bring balance to the body.  This technique is a gentle application of essential oils and massage without using hard pressure.
If desired, Carla uses essential oils to enhance the benefits of your massage.  Certain oils can help with different aches and pains, relieve stress and anxiety, and aid you in relaxation.  
We use Reiki techniques during your massage session to promote physical, emotional, and mental health.
This is a form of massage therapy originating in Japan.  It has the same principle as acupuncture, applying pressure to certain points on the body to promote healing.  The goal of this technique is to relieve pain and anxiety.  The massage therapist uses fingers, thumbs, and palm to apply pressure to the muscles.  

Deep tissue massage is a technique that improves blood circulation, helps relieve pain, and relaxes tight muscles.  Carla has experience in providing deep tissue sports injury massage.  Serving the Chicago area, we can help you further your healing.

Deep tissue massage therapy is similar to Swedish massage, but the deeper pressure is more effective for releasing chronic muscle tension, which is prevalent in sports related injuries.  The focus of this technique is on the deepest layers of muscle tissue, tendons and fascia.


 
Out of our many options available, our 1-hour table massage is our most popular choice.  This includes 30 minutes of deep tissue massage, 20 minutes of body stretching, and 10 minutes of reflexology with your choice of aromatherapy oils. 
Call Body Works by Carla at 847-312-9558 to schedule your table massage.  We can advise you on which technique will give you the benefits you desire.  Fill out our
online form
to schedule or with any questions and we will contact you soon!  We service Wilmette, Evanston, Chicago, and all surrounding areas.