Esalen Massage in Chicago Area
Esalen style massage is a gentle massage style that creates deep relaxation in your body.  This approach integrates the whole body and brings awareness of the way your body interacts with itself so that you can naturally let the tension and stress out of your body.

Esalen healing arts massage combines aspects of several disciplines including Swedish massage, sensory awareness training, applied kinesiology, yoga, tai chi, and more.  The strokes the massage therapist uses connects and unifies the entire body.  You are seen as a whole person, not just separate parts.  The goal of this type of massage is to integrate your mind and body and enhance total body awareness to bring you to deep relaxation.  No two massages will be alike.  Your massage therapist will intuitively understand what your body needs.

Esalen massage is a great option for infants and the elderly who are unable to handle a deep tissue massage.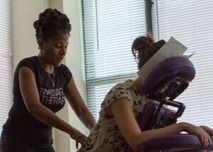 Call Body Works by Carla at 847-312-9558 to schedule your esalen massage in Evanston Illinois.  If you would rather, you may fill out our
online form
and we will contact you soon!  We service Wilmette, Evanston, Chicago, and all surrounding areas.